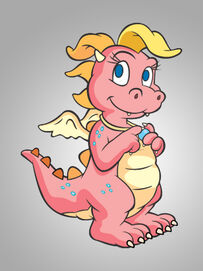 Dragon Tales is an American[ animated pre-school fantasy adventure children's television series created by Jim Coane and Ron Rodecker and developed by Coane, Wesley Eure, Jeffrey Scott, Cliff Ruby and Elana Lesser. The story focuses on the adventures of two siblings, Max and Emmy, and their dragon friends Ord, Cassie, Zak, Wheezie, and Quetzal. The series began broadcasting on the PBS on their PBS Kids block on September 6, 1999, with its final episode airing on November 25, 2005; currently reruns until August 31, 2010. On, September 1, 2010, Dragon Tales was removed from PBS Stations' channel schedules. However, episodes of the show are still sold on DVD. The program's full library of episodes was made available to subscribers of the streaming service Netflix until March 1, 2017. Though never released in a full season or series format on DVD, numerous individual releases were made available from all seasons on both DVD and VHS formats, a total of at least 17 DVD releases, each typically featuring at least 5 stories from the show, including "Adventures in Dragon Land," "Playing Fair Makes Playing Fun" and the animated / live-action special "Let's Start a Band.
Kellogg's cereal company and their associated products Rice Krispies, Froot Loops, Frosted Flakes and card maker, American Greetings were major sponsors throughout the program's run. Kellogg's Rice Krispies and Frosted Flakes were signed as underwriters for the program in January 1998, with the express agreement that while Kellogg's could produce 15-second customized underwriting spots, they had to be approved by Children's Television Workshop, Columbia Tristar Television Group, and PBS.
Ad blocker interference detected!
Wikia is a free-to-use site that makes money from advertising. We have a modified experience for viewers using ad blockers

Wikia is not accessible if you've made further modifications. Remove the custom ad blocker rule(s) and the page will load as expected.