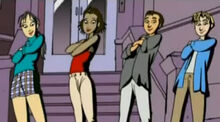 What is It? Take a Guess Is a short that aired at the end of Maya & Miguel episodes starting with the seventh episode of the first season. The short consists of four teenagers giving clues and hints to an item. Similar to Go! Figure, there are two parts. The first part is the teenagers giving the hints. The second part is the teenagers giving the hints and then the answer. The short was drawn in an anime style, and veteran anime voice actor Steven Blum provided the male voices.
Appearance
Edit
Coming soon! Edit
Known Shorts
Edit
Ad blocker interference detected!
Wikia is a free-to-use site that makes money from advertising. We have a modified experience for viewers using ad blockers

Wikia is not accessible if you've made further modifications. Remove the custom ad blocker rule(s) and the page will load as expected.